Roll over image to zoom in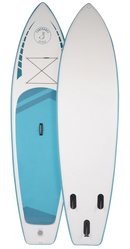 Description
Following the incredible success and popularity of the Ultimate RS board with schools and clubs in 2021 we have decided to make this board available for everyone. With a stronger internal construction than ever before and a 34'' wide base, this board will make it possible for newcomers and heavier riders to get out on the water on a board that is not only affordable but more importantly, extremely stable. The Ultimate RS board comes with simplified accessories to help keep the costs low but as you would expect, we never compromise on the construction or quality of the board.
Unlike our other boards the Ultimate RS has no removable fin. Instead, it has 3 fixed fins which helps save time when setting the board up and also stops you from ever worrying about losing a fin.
We build our boards using a multi-layer fusion technology and take great care over the quality of our products. We run our business with very small overheads and are happy to take a smaller margin so you can have a great quality/performing paddleboard without it costing you a fortune. 

Plus, the board comes with a 5 year warranty as standard.
Special Features:
Extra width and length for maximum stability and buoyancy
Advanced Board Shaping for excellent performance through the water, giving you longer gliding time
Rocker (upturn at the nose) ensures good wave performance
Diamond Groove Deckpad provides a comfortable grippy surface for your feet.
Kick-Step (raised platform) at the rear makes step-back pivot turns easy to learn and master. In addition, our customers tell us it is ideal for sunbathing.
3x fixed fins for a faster setup time
Package Contents:
Bravo SUP 4 pump (model of pump may vary depending on availability)
Lightweight 3-piece aluminium
Ankle surf leash with safety breaker
Valve repair kit
Lightweight, hardwearing rucksack with room to pack everything with your board, together with some spare towels, etc.
Payment & Security
Your payment information is processed securely. We do not store credit card details nor have access to your credit card information.