Roll over image to zoom in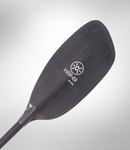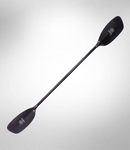 Description
The Sho-Gun uses our most advanced technology in this river running paddle. As powerful as its name suggests, the rivers that paddlers take the Sho-Gun often need some aggression to navigate each horizon line. Decades of experience led us to the chosen paddle for many at the top of their game.

Features:
Ultimate performance brings together all of our most advanced designs.
The volume of the buoyant, full carbon, blade gives confidence for rolling and bracing, especially in aerated rapids.
Dihedral allows for smooth and stable forward paddling, a core philosophy for Werner.
With white water specific reinforcement channels, our low-profile back face design allows for a quieter catch and effortless exit of the stroke while maintaining strength.
Dynel® edges and Kevlar® reinforcement protect the paddle from the rigours of the whitewater environment.
Full sized blades are and ideal fit for larger, well-conditioned paddlers or those looking for more powerful strokes on shorter steeper rapids.
Optimised flex and strength. 
Although our Ultimate performance paddles are far and away our best paddling, their unique design characteristics and materials do not make them our most impact resistant. Look to our Premium paddles for the highest impact resistance.
Custom orders available for small diameter shafts and custom feather/length, please call for more info.
Werner Sho-Gun/Stikine Paddles Video
Payment & Security
Your payment information is processed securely. We do not store credit card details nor have access to your credit card information.