Roll over image to zoom in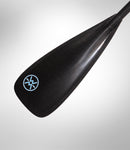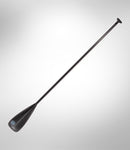 Description
Using the same mould as our Flow, the Trance has all the balance and buoyancy but by using an advanced full carbon layup we are able to achieve staggering low weights. For the paddler looking to go further, faster and stay on the water longer the 15.75 ounce weight, along with smooth stable strokes is going to make the Trance a must have. With its amazing feel on and off the water, this is by far the elite paddle of our Versatile line.
Features:
With decades of design experience, we saw a need to innovate blade shape. Our longer, rectangular, slender design is easier on the body with a more gentle catch. Higher cadence and less fatigue without sacrificing blade size and power.
The volume of a buoyant deigned carbon blade creates an exceedingly light feel. This POPS the blade from the water for effortless forward strokes and confident bracing. A smooth back face is quiet and helps to make linking turning strokes easy.
Our Versatile paddles have a 10 degree shaft to blade offset. Designed to keep the blade more vertical through the power phase, it benefits your forward paddling, but still gives the surfer a good compromise in the waves.
Dihedral, the ridge down the middle of the power face, allows for smooth and stable forward paddling. A core philosophy for Werner.
With decades of experience in blade lamination, our edge guard specific to our Ultimate Versatile use blades is designed to be super thin, creating a knife like feel in and out of the water. Impact and abrasion resistant for these models intended usage.
Mid-sized 95" blade suits those wanting to move more water and to those of medium to larger stature.
Countless hours of testing developed an optimised flex and strength. With our attention to detail and full carbon construction you feel comfort all day, all year, without sacrificing power or confidence.
| Blade size (in) | Trance 95 | Trance 85 |
| --- | --- | --- |
| Length | 18.75 | 17.75 |
| Width | 7 | 6.5 |
| Surface area | 95 in² | 85 in² |
| Weight | 1 piece straight - 447g | 1 piece straight - 439g |
| | 1 piece bent - 617g | 1 piece bent - 610g |
| | 8" LeverLock - 561g | 8" LeverLock - 554g |
| | 8" LeverLock Travel - 625g | 8" LeverLock Travel - 618g |
Also available in 1 Piece Bent Shaft and small shaft diameter by custom order only, please call to discuss.
Payment & Security
Your payment information is processed securely. We do not store credit card details nor have access to your credit card information.