Roll over image to zoom in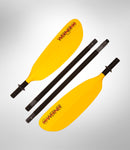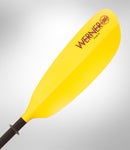 Description
Please Note: Werner have temporarily stopped production of all low-end nylon-bladed paddles until at least September 2021.
The Skagit FG is a great value for those with a budget and enjoys a more relaxed, low-angle, paddling style. Find design features direct from our higher models, but at a lower price. The number one selling recreational kayak paddle in its price range, the favourite among recreational paddlers.
Features:
Standard Performance gives you Werner's heritage for a better paddling paddle at introductory prices.
Mid-sized, low-angle blades fit the widest range of paddlers.
Dihedral allows for smooth and stable forward paddling, a core philosophy for Werner.
Fibreglass reinforced nylon, injection moulded blades are impact and wear resistant, a combination of light swing weight for the value yet maintain the design element direct from our Premium line. Offering smooth, stable strokes and easier paddling
The Smart View Adjustable ferrule is the most simple, precise fitting on the market. The solid feel of a 1-piece paddle and nothing to snag your gear.

 

230 cm Four Piece Breakdown Specifications: Blade Length - 63cm | Male Shaft - 69cm | Female Shaft - 59cm
Payment & Security
Your payment information is processed securely. We do not store credit card details nor have access to your credit card information.