Roll over image to zoom in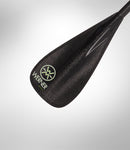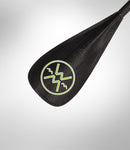 Description
The Rip Stick 79 is the answer to what stand up paddle surfers want. More power from a smaller blade. Smaller blade size means a higher cadence for bursts of speed, with a low-profile that won't trip up when executing turns. To generate more power, we developed an innovative double concave dihedral in the power face of the blade. The power pockets created to accelerate into more waves, outrace outside sets and blast over foam piles, Along with more power the double concave shape of the blade face creates a super stable stroke, for all the crazy angles you find yourself paddling. Coupled with our unique 7 degree blade to shaft offset, softer overall flex and wide range of fit options we now offer the surfer a paddle truly specific to the sport. Read more to see the surf specific designs that let the Rip Stick help you perform at a higher level.
Features:
Dihedral-configured for the surf. Our innovative double concave dihedral creates a self-centering dynamic to any angle or placement of any stroke. Focus on catching the wave in the perfect position without worrying about your paddling technique.
Dihedral-configured for power. The double concave dihedral creates power pockets. Maximum power from a low profile blade shape and smaller overall size. Higher cadence for more speed, less blade in the way for cranking through turns.
Wave riding utilises quick, explosive strokes, hence our surf blade shape. This low profile blade shape also avoids tripping up when performing. Complimenting the initial power of the stroke, we softened the flex to protect your body.
7 degree shaft to blade offset does 2 key things in the waves. It keeps the blade more vertical in the short-fast strokes needed for surfing and keeps the blade parallel to the surface of the water - eliminating diving and providing a more confident brace.
79 square" blade reduces surface area to excel in the surf, but remains powerful with innovative blade design. This small-size blade suits small to medium surfers.
Increased volume to size ratio enhances the buoyancy of this carbon blade. Creating a feel of the blade "Popping" from the water. Light-fast strokes and added confidence in your bracing.
We looked to decades of experience in compression moulding paddle blades to come up with our ultra-thin edges. Cleaner entry and exit from the water and lighter weight while remaining abrasion and impact resistant.
Flex is a key element a surf specific paddle. To reduce stress on the body during the bursts of energy needed when surfing, we increased the overall flex compared to our other carbon models, without sacrificing performance or strength.
Also available by custom order in 2 Piece or 3 Piece Leverlock, please call to discuss.
Choose our carbon straight shaft in fixed length for lightest weight, a 8" LeverLock adjustable system or our 3-piece travel breakdown also with LeverLock.
Payment & Security
Your payment information is processed securely. We do not store credit card details nor have access to your credit card information.