Roll over image to zoom in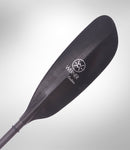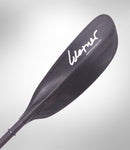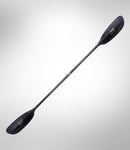 Description
In honour of the man who started it all, the Werner Sr. Edition Ovation is the culmination of decades of experience on the water and in the R&D room, working with composite materials and construction. The feeling on the water is fitting of the name. The design and construction of the Ovation make it far and away our best paddling low-angle touring model, however that does come with reduced strength. Consider your expectations of this model and if more rugged paddling and the high potential for rescue situations is in your future, compare this model to our Kalliste.
Features:
Ultimate performance, to a higher level with the Ovation. Our lightest best paddling paddle has no detail overlooked, even down to the custom, small sized-light weight, drip rings.
The volume of the buoyant, full carbon, blade creates an exceedingly light feel for effortless and confident strokes.
Smooth back face and thinner edges allow for a quieter catch and effortless exit of the stroke.
Dihedral allows for smooth and stable forward paddling, a core philosophy for Werner.
Mid-sized blades are an ideal fit for the great majority of average size paddlers.
Optimised flex and strength.
Reduced weight means the Ovation has reduced strength. This model is not intended for extreme conditions. Margin for error is small in rescues and re-entries, so be sure to use proper technique to avoid paddle damage.
The Smart View Adjustable ferrule is the most simple, precise fitting on the market. The solid feel of a 1-piece paddle and nothing to snag your gear.
Includes embroidered fleece paddle bag to help protect your paddle during transport or storage.
Custom orders available for small diameter shafts and custom feather/length, please call for more info.
Payment & Security
Your payment information is processed securely. We do not store credit card details nor have access to your credit card information.