Roll over image to zoom in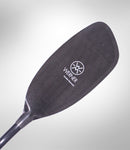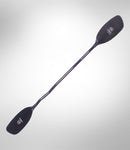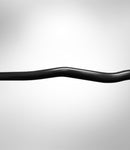 Description
The Double Diamond is the ultimate paddle for serious play boaters. Trust our Bomber strength and reliability no matter what your trick. We were there for the birth of play boating and design innovations have kept us there at this elite level.
Features:
Ultimate performance brings together all of our most advanced designs.
Down turned blades give immediate directional control for rudder and draw strokes.
The volume of the buoyant, full carbon, blade creates an exceedingly light feel for effortless and confident strokes.
With white water specific reinforcement channels, our low-profile back face design allows for a quieter catch and effortless exit of the stroke while maintaining strength.
Dihedral allows for smooth and stable forward paddling, a core philosophy for Werner.
Dynel® edges and Kevlar® reinforcement protect the paddle from the rigours of the whitewater environment.
Mid-sized blades are an ideal fit for the great majority of average size paddlers.
Custom orders available for small diameter shafts and custom feather/length, please call for more info.
Payment & Security
Your payment information is processed securely. We do not store credit card details nor have access to your credit card information.