Roll over image to zoom in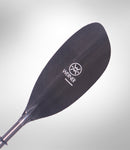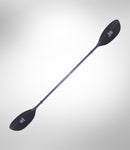 Description
The Corryvreckan is our largest premium High Angle blade, designed for those who want powerful strokes in all directions. The perfect paddle for the coastal play environment, or for those strong enough to move lots of water and cover the miles fast.
Features:
Premium Performance uses material choice and manufacturing skill to allow for a perfect combination of light swing weight and stiffness. Carbon blade construction gives you our lightest swing weight option.
Full sized blades are and ideal fit for larger, well-conditioned paddlers.
Dihedral allows for smooth and stable forward paddling, a core philosophy for Werner.
Custom shaped, low profile, reinforcement spine allows for enhanced blade manoeuvrability when linking several strokes and provides blade stiffness and overall strength.
Optimised flex and strength.

The Smart View Adjustable ferrule is the most simple, precise fitting on the market. The solid feel of a 1-piece paddle and nothing to snag your gear.
Custom orders available for small diameter shafts and custom feather/length, please call for more info.
Payment & Security
Your payment information is processed securely. We do not store credit card details nor have access to your credit card information.