Roll over image to zoom in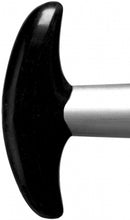 Description
The TNP Canoe paddle is a excellent high quality paddle made up of a high grade nylon blade on a Duralumin shaft. Often used by people who are just starting out in the sport of open canoeing.
The TNP Canoe paddle is robust enough to withstand the day to day stresses a paddle will endure, ideal for centre and club use.
Now updated with an improved paddle shape. Classic paddle with straight blade shape.
Payment & Security
Your payment information is processed securely. We do not store credit card details nor have access to your credit card information.