Roll over image to zoom in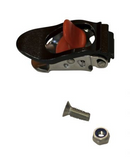 Description
Backrest adjustment in a kayak is key to performance and comfort, and ratchets make that adjustment simple, easy and solid - even when you're sat in an eddy.

If your ratchets have broken or corroded, or you want to upgrade a boat with a non-ratchet backband, then these will suit most recent models of Pyranha kayaks. Made entirely from anodised aluminium, stainless steel and plastic components, our latest ratchets are highly corrosion resistant, even when subjected to harsh salt water (we use the same ratchets on our P&H range of sea kayaks).
Features:
100% corrosion resistant construction
High strength metal design
Easily visible red release latch
Spring loaded to maintain low profile when not in use
Compatible with most plastic ratchet strips
Will fit most models of Pyranha kayaks
Payment & Security
Your payment information is processed securely. We do not store credit card details nor have access to your credit card information.