Roll over image to zoom in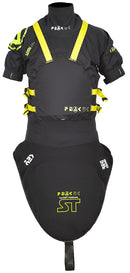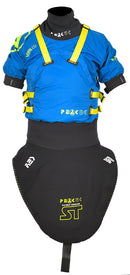 Description
Please allow 10 days for delivery.
The latest addition to our ST range with tougher materials and more advanced seals. Perfect for freestyle.
Custom Colour options for body & logo available at no extra charge:
White
Black
Red
Blue
Orange
Lime
Pink
Purple
Dark Blue
Grey
Bespoke (Own patterns, logos, etc.) +£54 - Please contact us before placing the order.
Peak UK Semi ST Shortsleeve Cagdeck Customizer
If ordering a custom cagdeck, please include colour options for both body and logo/stitching in order notes, or contact us before placing your order.
Features:
Articulated cut
Breathable and durable midweight X3 nylon with 20m waterproofing
Superstretch neoprene neck cone with elasticated tension strap
Latex inner arms, superstretch neo outers with elasticated tension straps, removable sleeve option
Gaia environmentally friendly super soft flotation foam
Only 20mm thickness on the body
Load bearing and secure webbing body harness
Figure hugging shoulder and side adjusters
Tough faced 4mm neoprene spraydeck with added flotation foam
Grippy latex underside print on SM, KEY and BIG deck sizes
EU Patent Pending and registered design
ISO 12402-5 Certified. ICF 6.12KG Registered.
Payment & Security
Your payment information is processed securely. We do not store credit card details nor have access to your credit card information.