Roll over image to zoom in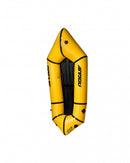 Description
The All-new Rogue-lite is the lightest packraft in Kokopelli's fleet weighing in at 2.2kg. Kokopelli has designed the Rogue-lite packraft to be functional while reducing weight and maximising compactness. This packraft is ideal for backcountry river crossings, high alpine lake fishing and wide calm rivers.
The Rogue series packrafts are the first in class packrafts to offer a Kevlar reinforced floor system This maximises durability while reducing weight and pack size.
The Rogue-lite packraft can be rolled up into the size of a roll of paper towels make it ideal from bike-packing and backpacking alike. The Rogue-lite is a single chambered packraft and includes an inflatable seat cushion.
There are four strategically placed D-rings on the front of the packraft to allow secure storage of gear. The inflatable seat cushion will keep you dry and allow you to sit higher, allowing for deeper paddle stroke. There is no seat back which further reduces weight and minimises pack size.
Features:

Packraft - 2.2kg (add 0.1kg for Tizip)

Inflation Bag- 115gm (Inflation Time: 3 minutes)
Chambers: 1
Outside Length: 216cm
Outside Width: 94cm
Packed Size: 30 x 23 x 15cm
Load Capacity- 125kg
Sidewall Construction – 210 denier single side coated nylon, 1" seams, double-reinforced seam tape
Floor Construction – 210 denier Kevlar reinforced double side coated nylon, 100% v-tape floor construction for added durability
All seams are double sealed with a 1" seam tape to the deliver the highest durability and ensure the highest quality air holding properties.
Includes Field Repair Kit, Inflatable Seat, Inflation Bag, Extension Blow Tube
1 Year Warranty
Payment & Security
Your payment information is processed securely. We do not store credit card details nor have access to your credit card information.