Roll over image to zoom in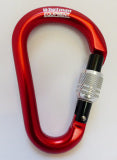 Description
HMS classic pear shape screwgate karabiner. The pear shape is engineered to take load over a much greater area of the karabiner. This makes it much more versatile than other types of karabiner as it can safely take more than one rope and a variety of knots and hitches. Ideal for belays, rescue rigging multipoints & water rescue applications.

​This is an extra large karabiner which has a wider thicker top bar which allows for better running of ropes. It's main purpose is to belay using an Italian Hitch or Muenter Hitch. The large size also allows for multiple ropes to connect or two clove hitches to tie onto the bar.

If a paddler is only gong to have a few karabiners then take HMS Pear shaped screwgates.

Will fit with the green Whetman Equipment Krab Stick.

Features:
Snag free wide opening Keyhole gate
Length 116mm
Width 71mm
Load main axis 25KN
Weight 85g
​Made in the UK
Payment & Security
Your payment information is processed securely. We do not store credit card details nor have access to your credit card information.