Roll over image to zoom in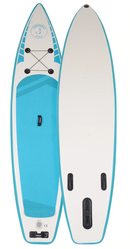 Description
Our Elite Pro Sport was designed to bridge the gap between our all-rounder boards and touring boards. With superior hydrodynamic shaping, improved tracking performance and immense glide speed, the Elite Pro Sport is the perfect board for those looking to progress to something faster, whilst having the added advantage of being less bulky and more manoeuvrable than the Sports Touring board.
The Elite Pro Sport truly gives you the best of both worlds. Not only can you enjoy excellent performance and effortless paddling, but the Elite Pro Sport is also surprisingly stable. This is because even though the board is narrower than the Ultimate board (30'' wide), it's only 4.75'' thick. This thinner construction helps to lower your centre of gravity and improve stability.
We build our boards using a multi-layer fusion technology and take great care over the quality of our products. We run our business with very small overheads and are happy to take a smaller margin so you can have a great quality/performing paddleboard without it costing you a fortune.
Plus, the board comes with a 5 year warranty as standard.
Special Features:
Extra width and length for maximum stability and buoyancy
Superior hydrodynamic shaping for immense glide speed and effortless paddling
Rocker (upturn at the nose) ensures good wave performance
Diamond Groove Deckpad provides a comfortable grippy surface for your feet.
Kick-Step (raised platform) at the rear makes step-back pivot turns easy to learn and master. In addition, our customers tell us it is ideal for sunbathing.
Triple Fin for extra control, including 1 easy fix fin and two attached guide fins for shallow water
Payment & Security
Your payment information is processed securely. We do not store credit card details nor have access to your credit card information.